Price Elsewhere: $79.00 for a single-site license.
ThinkCode Price: 87% off discount!
How can PayPal Express for WooCommerce help your business?
When starting a WooCommerce store, one of the most critical factors is how you plan on accepting payments. Important measures like security, PCI compliance and payment processing all need to be accounted for, and it often overcomplicates the process.
PayPal Express for WooCommerce is a payment gateway extension plugin which integrates PayPal's efficient, secure and quick checkout process into your website. You give your customers the peace of mind and sense of security that PayPal is renowned for, and you simplify the checkout process dramatically.
The PayPal Express payment gateway does not require an SSL certificate to operate, because payment processing and customers' details are all encrypted and handled by PayPal directly. When customers look at their cart page, they'll now have the option to checkout with PayPal—there they will be able to authorize a payment method (anything that PayPal accepts: Visa®, MasterCard®, American Express®, Discover®, debit cards, bank transfers, your PayPal balance and PayPal's bill me later if you have it configured).


There is no PCI compliance to account for because the checkout process doesn't happen on your website. As soon as a payment method is authorized, your customers will be redirected to your store to finalize the checkout process, including shipping and confirming the order.
With PayPal Express enabled on your WooCommerce site, you're able to:
Accept payments in 203 markets and 26 currencies. You can find the full list here.
Charge orders immediately, or simply make an authorization and capture them when you're ready to ship, directly in WooCommerce.
Allow guest checkout through PayPal Express for customers who do not have a PayPal account.
Require your customers to accept terms & conditions before your checkout is finalized.
Gain Your Customers' Trust
If a customer landed on your WooCommerce store from a search engine, they may be unfamiliar with your brand. But they're more than likely familiar with PayPal and the PayPal logo. This reassures prospective customers and increases your conversion rate dramatically. If someone's ready to buy a product from you, they may still be on the fence about entering their credit card details directly onto your website—but they won't hesitate for a second to use PayPal. PayPal's survey results concluded the following:
Recent testing at major retailers showed that after PayPal was integrated, total customers increased by 27%.
Authorize Payments & Capture Them Later—Right in WooCommerce
For online stores which accept preorders and backorders, or sells made-to-order products, you may want to simply authorize payments and finalize the charging process when you're ready to ship. If that's the case, this plugin allows you to capture previously authorized transactions directly from the WooCommerce dashboard. Simply edit your order and select the "Capture Charge" option—and the extension will handle the rest with PayPal.
Efficient, Seamless Checkout
When your customers are sent to PayPal to authorize a payment method, they'll be redirected to a checkout page that's pre-filled out with their billing details and contact information. They can then opt to enter alternate shipping information, or ship to their billing address, and choose their shipping method if you have several options.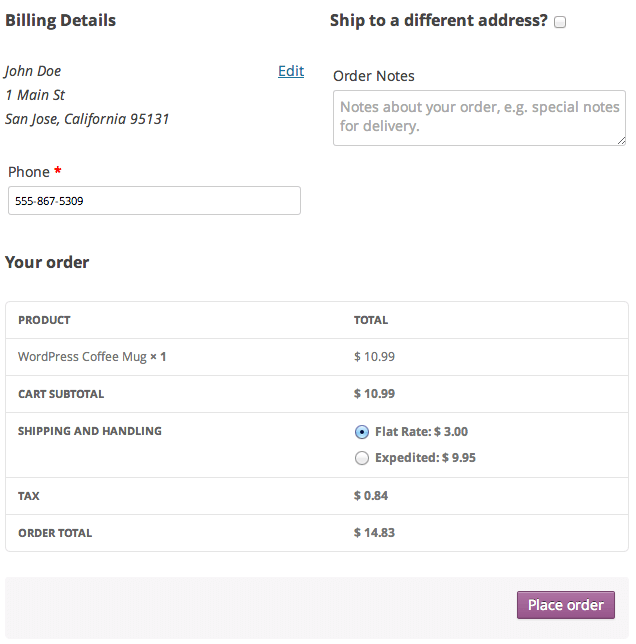 PayPal Express Payment Gateway Setup Instructions
Purchase this plugin from us at an incredible 75% off discount! You'll have an instant download link emailed to you as soon as you do.
Download the .zip file, and upload it to your WordPress installation. If you're on a Mac, you may need to compress the file again before doing so (Macs often automatically unzip files upon download).
Log into your PayPal business account, or sign up if you don't have one. Get your API ID and Key.
Enter both into the respective fields in the PayPal Express payment gateway settings page, and refer to the plugin documentation if you have any issues.