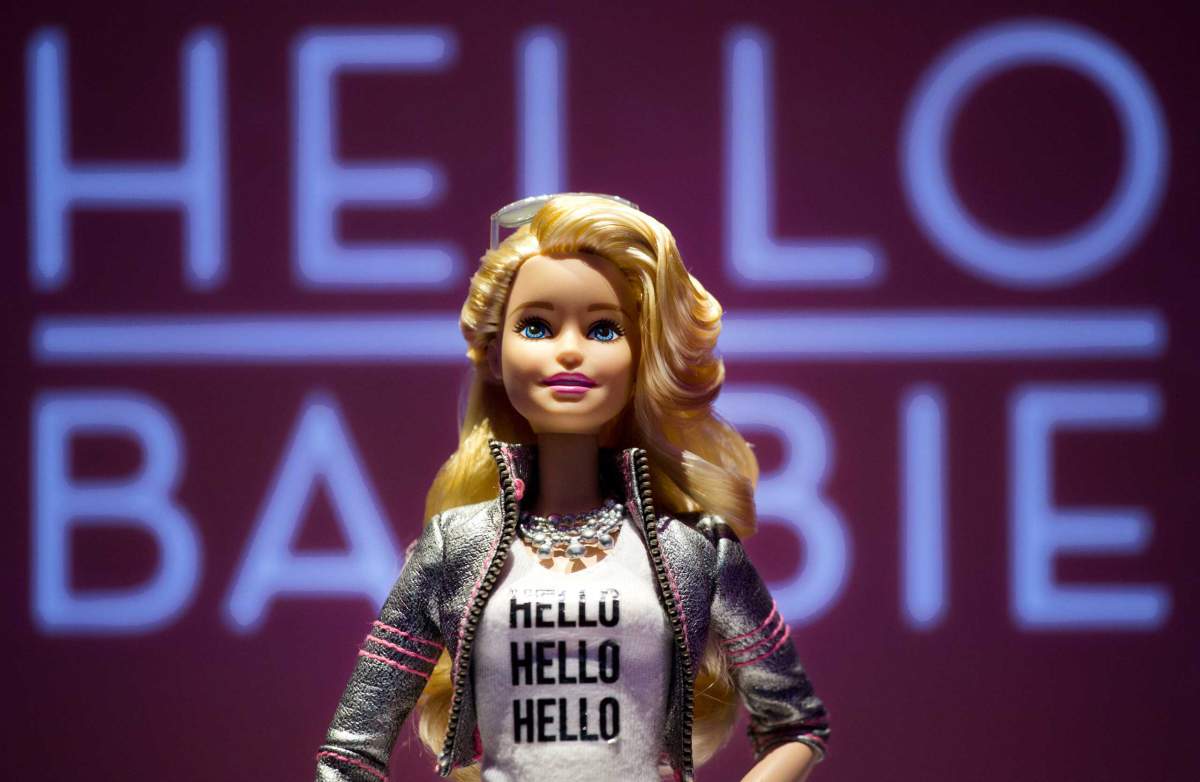 Toy-makers at Mattel are attempting to revive the company's sinking sales with the newest addition to the Barbie line: Hello Barbie. Mattel has brought Barbie to life with voice-recognition software by their San-Fransico based startup partner, ToyTalk, that will allow her to hold two-way, unique conversations with the child playing with her, as she "learns" more about the child.
"Hello Barbie" will be the first interactive, Wi-Fi enabled doll. Her embedded microphone records what the child says. The recording is uploaded to ToyTalk's cloud server where the recording is saved and decoded so Hello Barbie can make sense of the intel before formulating chatty responses unique to the child's interests and conversational habits.
Hello Barbie made her debut on at the 2015 New York City Toy Fair. According to Washington Post,
A Mattel representative introduced the newest version of Barbie by saying: "Welcome to New York, Barbie."

The doll, named Hello Barbie, responded: "I love New York! Don't you? Tell me, what's your favorite part about the city? The food, fashion or the sights?"
Children's privacy advocates are demanding Hello Barbie, nicknamed "eavesdrop Barbie," be kept from hitting store shelves in the fall. Director of the Campaign for a Commercial-Free Childhood, Susan Lin says, "Kids using Hello Barbie aren't only talking to a doll. They're talking directly to a toy conglomerate whose only interest in them is financial. It's creepy—and creates a host of dangers for children and families."
"If I had a young child, I would be very concerned that my child's intimate conversations with her doll were being recorded and analyzed," said Angela Campbell, a faculty adviser at Georgetown University's Center on Privacy and Technology. "Children confide in their dolls. When children have conversations with dolls and stuffed animals, they're playing, and they reveal a lot about themselves."
According to Campbell, nothing in Mattel's guidelines prevents the company from using the information the dolls gather for their market gain. Learning a child's likes and dislikes can allow Mattel to unfairly market new products to children and their family.
Mattel and ToyTalk indicated that privacy and security of the technology is their top priority. In an interview, ToyTalk chief executive Oren Jacobs explained that parents will have to consent to having their children recorded and they can opt to receive daily or weekly emails with access to their child's recorded conversations with Hello Barbie. "The data is never used for anything to do with marketing or publicity or any of that stuff. Not at all," Jacob said, but privacy advocates aren't convinced.
The toy industry has been struggling to keep up with children's growing interest in Web-enabled gadgets. Barbie sales took a 21 percent dive as the demand for apps and online games rose. Hello Barbie may be Mattel's attempt to keep up with the demands of our time, but it falls on the parents to decide on the technology limitations appropriate for their children.