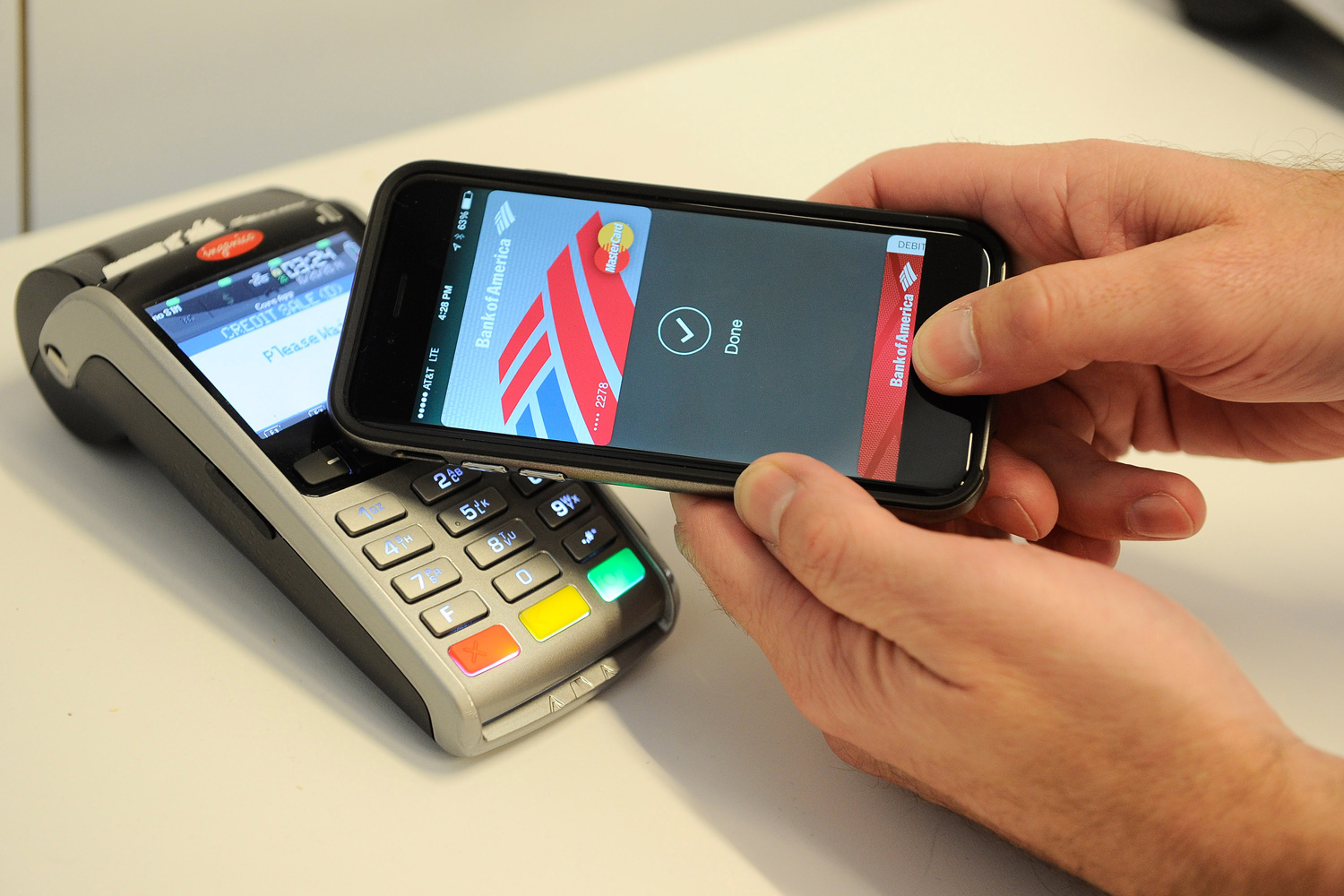 This week marks the official launch of Apple Pay. It made its U.S. debut this Monday, October 21st, 2014. For those unfamiliar with Apple Pay, it is the new mobile payment program for iPhone 6 and iPhone 6 Plus owners. With Apple Pay, users have the ability to make purchases simply by pointing their phone to the Apply Pay reader while holding the TouchID fingerprint sensor. Apple Pay will support Visa, MasterCard and American Express. It is also supported by 500 Banks as well as 220,000 different retail locations, including: Starbucks, Macy's, Sephora, Subway, Staples, Walgreens, Whole Foods, Panera and many more.
However, what differentiates Apple Pay from previous mobile payment technology systems such as Google Wallet is its level of privacy and security. Apple ensures that credit card information is neither stored nor given to the merchant. Once credit card information is entered into the Passbook app, Apple Pay will generate an account number, which is stored in Secure Element. Every time you make a payment, Secure Element will create a transaction code whic will be used in order to complete the payment.
Through this method Apple is not involved in the transaction. Apple won't know the item purchased, location of transaction or the amount paid. The information regarding the traction is only shared between merchant and customer. Where as with Google Wallet, transaction information is stored. In the case where an iPhone or tablet is lost or stolen, by using the Find My iPhone app you can put your phone into lost mode which will suspend Apple Pay.
With the launch of Apple Pay, credits cards may no longer be needed. The launch of Apple Pay is initiating the consumer switch to mobile transactions. Apple has presented their mobile payment program in a simple user-friendly format, which will make consumers more likely to use Apple Pay.
Here are a list of Apple's confirmed credit and debit partners:
American Express
Bank of America
CapitalOne
Chase
Citi
MasterCard
Visa
Wells Fargo
Apple Pay will be live at the following retail locations starting Monday:
Aeropostale
American Eagle Outfitters
Babies 'R' Us
BJ's Wholesale Club
Bloomingdale's
Champs Sports
Chevron and Texaco, including retail stores like ExtraMile
The Disney Store
Duane Reade
Foot Locker, including Kids Foot Locker, Lady Foot Locker, House of Hoops, and Run by Foot Locker
Footaction
Macy's
McDonald's
Nike
Office Depot
Panera Bread
Petco and Unleashed by Petco
RadioShack
Six:02
Sports Authority
Subway
Toys 'R' Us
Walgreens
Wegmans
Whole Foods Market
By the end of the year, these retail stores will have Apple Pay compatibility as well:
Anthropologie
Free People
Sephora
Staples
Urban Outfitters
Walt Disney World Resort
For in-app payments, Apple Pay will work with the following apps at launch:
Apple Store App
Chairish
Fancy
Groupon
HotelTonight
Houzz
Instacart
Lyft
OpenTable
Panera Bread
Spring
Staples
Target
Uber
And by the end of the year, these apps will support Apple Pay:
AirBnB
Disney Store
Eventbrite
Jackthreads
Levi's Stadium by VenueNext
Sephora
Starbucks
StubHub
Ticketmaster
iPhone 6 and 6 Plus users: do you think you'll be using Apple Pay?