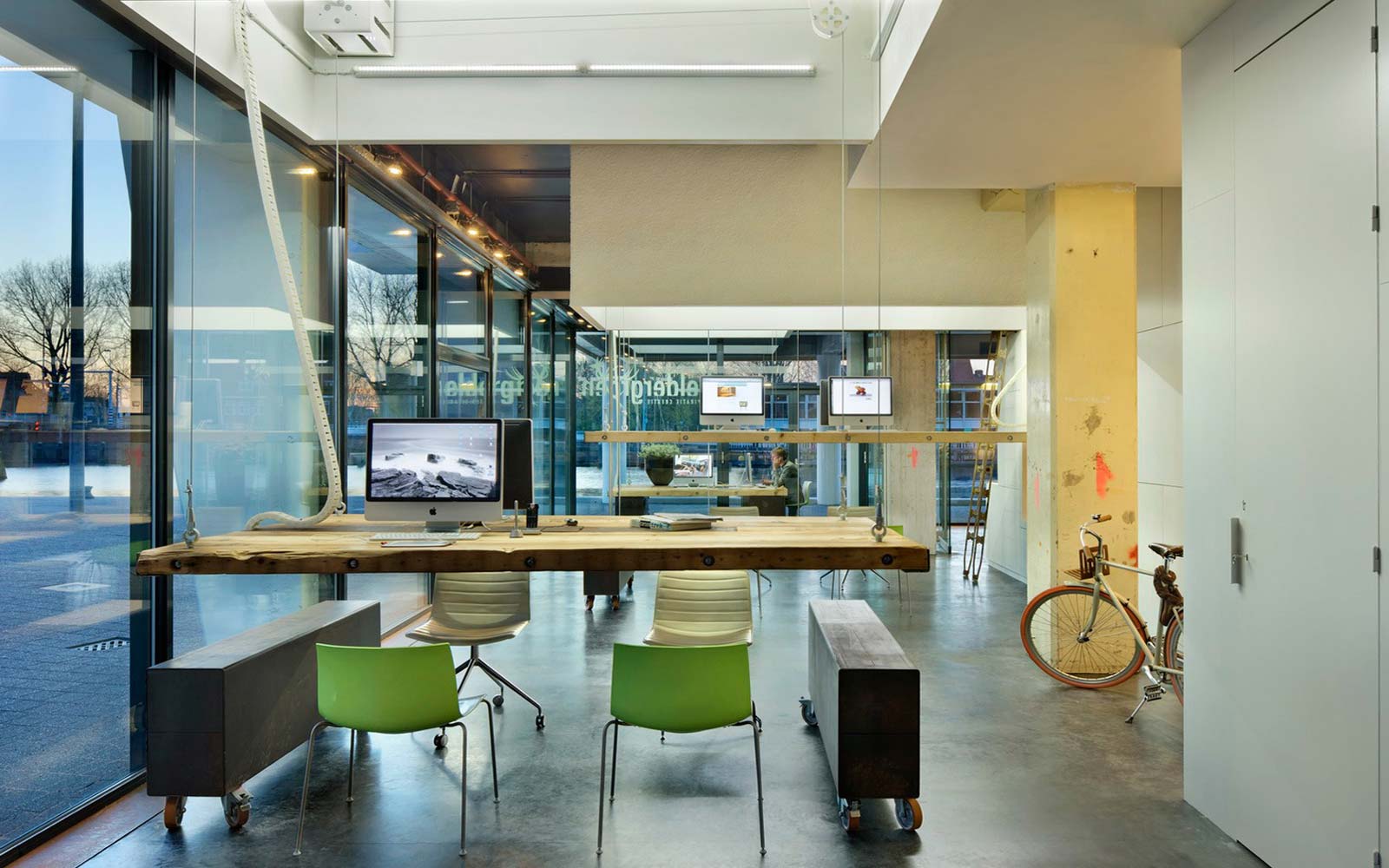 Long gone are the days of the traditional office. The word office once conjured up drab, grey images of employees listlessly typing away at their computer screens. These days, collaborative workspaces are all the rage—for good reason. "Two brains are better than one," is not just an old adage repeated by teachers the world over in an attempt to encourage group work. The most successful companies have taken the advice to heart, and combined open workspaces with fun and playful design, to create offices that inspire the creative mind. From the slides in the employee lounge at Google New York, to Seglas Cano's office in the woods, this list will inspire you to rethink employers.
Here are 6 of the most creative office designs around the world.
6. JWT New York, New York
JWT is the oldest advertising agency in the country, but walk into the New York office and you'd be hard-pressed to find anything that hints at their age. The entire design for the office is quite literally rooted in the concept of the "narrative tree," a metaphor for storytelling that reflects the agency's mission on creating engaging experiences for consumers. The office is anchored by the "trunk," a staircase that connects all the branches—meeting rooms that foster creative thinking. Each conference room has a name and a theme, like the "Cathedral," a large, elegant room with a lot of wood finishes that serves as one of the main conference rooms for the agency. "Tents" are smaller meeting spaces that are enclosed in soundproof material with inspirational quotes set on the walls. A fully equipped game room and a café that doubles as a fully stocked bar for special occasions, offer employees the space to balance work and play.
5. Google New York, New York
No creative offices list would be complete without an entry from one of the Google offices. Google New York is located in a large art-deco building with the second largest footprint in the city. The building, which takes up a full city block features a variety of design choices from a Victorian-era library with a trick door, to a conference room inspired by the claustrophobia-inducing New York City studio. The diversity in design draws from the diversity and variety of New York. There are dozens of lounges, cafes, and relaxation areas for employees to enjoy. A beautiful rooftop offers panoramic views of Manhattan. Every nook and cranny at Google New York is an opportunity for employees to explore and discover something new. It's no wonder Google is constantly at the forefront of innovation and technology.
4. Inventionland Design Factory Pittsburgh, Pennsylvania
The entries on this list are examples of truly creative and fun interactive workspaces where creative minds can soar, but many of them still look like offices. Inventionland not only sounds like a theme park, but it looks like one too. The castles, tree-houses, candy houses, waterfalls, and pirate ships that populate Inventionland come right from the world of your inner child. But running a design factory that's churning out over 2,000 inventions a year is not child's play. The line between fun and work is blurred in this incredible workspace. Sixteen "sets," each with a unique theme make up the 70,000 sq. foot mammoth office. The beautifully crafted space is a feast for your senses. State of the art equipment complements the wonderland environment, giving employees the tools to create with unparalleled innovation.
3. Pallotta TeamWorks Los Angeles, California
A charity event production company might seem out of place on this list. Advertising agencies, design firms, and tech companies aren't the only ones allowed to have fun with office design. Welcome to Pallotta Teamworks, a shipping container city/office. Located in a large warehouse in Los Angeles the Pallotta Teamworks office is made up of shipping containers and large circus tents, an idea that arose out of budget constraints on air conditioning. The result is a "city," where shipping containers topped with large circus tents are arranged in rows that create "streets" to navigate the warehouse. A tower stacked three containers high serves as the executive watchtower, overseeing operations. Raw lumber and wood are used for desks, partitions, and other elements to create a cohesive loft-like, minimalist design. The unique space fosters a work environment where creativity is valued and encouraged.
2. Heldergroen Amsterdam, Netherlands
Work-life balance is something we all struggle to perfect, especially in the high pressure, fast-paced world of creative industry. At Heldergroen, work-life balance is not only encouraged, it's mandatory by design. After 6 PM, at the turn of a key, the floor is cleared. Desks—with computers and all—are lifted into the air via steel cable mechanisms, like the ones you would find in a large-scale theater production. During after-hours, the office can be used for anything from an event hall, to a yoga studio. Heldergroen even rents out the space on weekends for others to use. The other entries on the list are designed to be places where employees want to stay and work. Heldergroen forces employees to spend time away from work. It is a different approach to the same philosophy. Inspired, happy employees, make inspired, creative work. Instead of inspiring employees at work, Heldergroen forces their workers to go out and cultivate their own inspiration.
1. Selgas Cano Madrid, Spain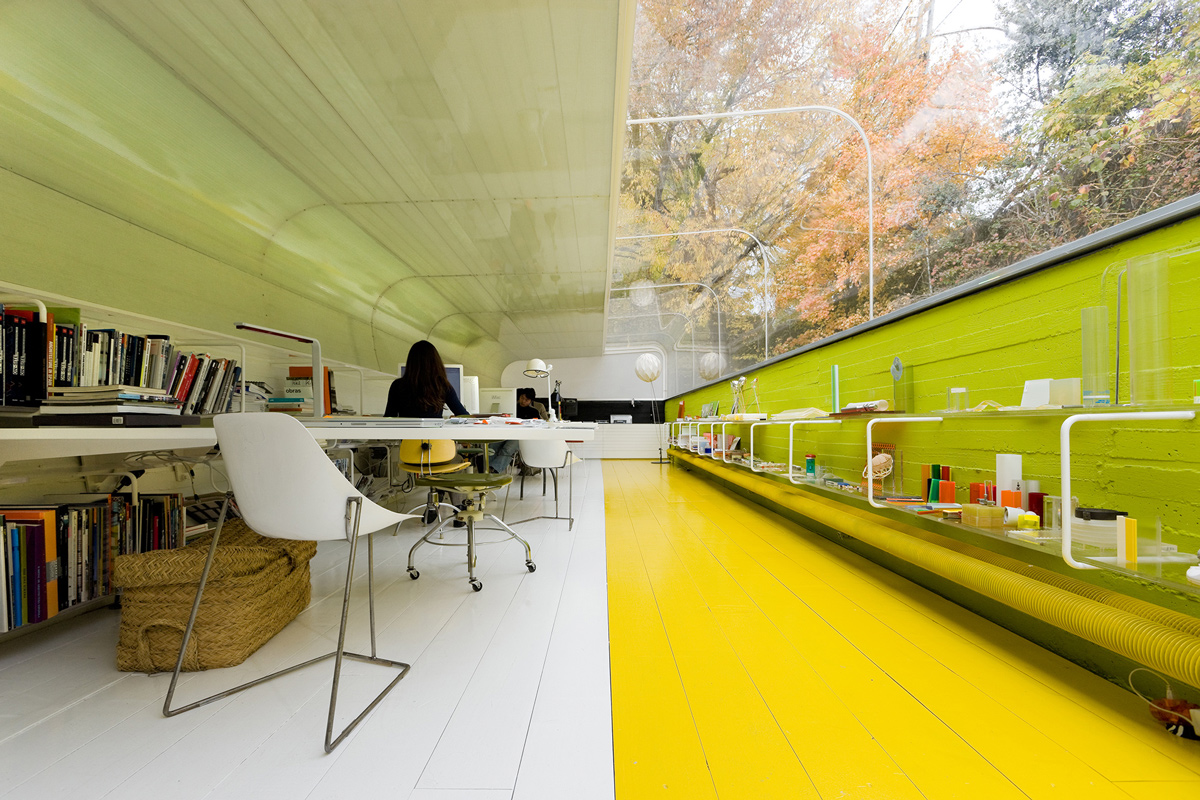 Creative people are often advised to go out into nature when ideas are hard to come by. The serenity and natural beauty are thought to spark parts of our creative brain that we can't access behind a computer screen. Architects Jose Salgas, and Lucia Cano took that advice to a whole new level when they built their architecture firm in the woods near Madrid, Spain. The office is a sunken tube-like structure with floor-to-ceiling glass windows encompassing one wall. It gives employees an immersive view of the beauty around them, no one can ever complain about the view. With one wall being entirely glass, natural light is abundant, and employees can observe nature right outside their desks. The other half of the office is submerged in the Earth, allowing for a natural and sustainable cooling system. Being so close to natural beauty is sure to get even the most seasoned city veteran's creative juices flowing.