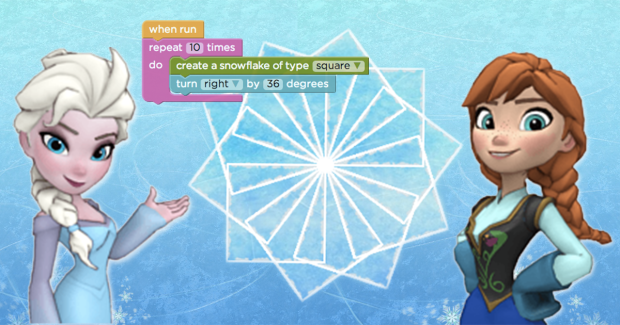 Code.org is using the popular Frozen heroines, Elsa and Anna, to bridge the gender gap in computer programming with a coding tutorial that teaches young girls basic coding concepts in about an hour, and lets you "create snowflakes and patterns as you ice-skate and make a winter wonderland that you can then share with your friends."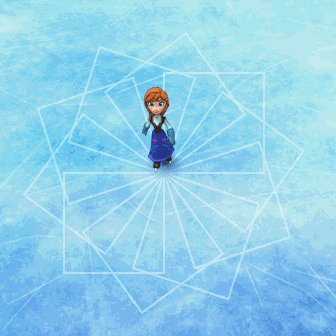 The tutorial is backed by short video lectures by successful women in the tech industry: Microsoft engineer Paola Mejia, Polyvore CEO Jess Lee, and model and software application writer Lyndsey Scott, walk students through video tutorials and show them how to create a string of commands using Blockly, a visual drag-and-drop, which helps the princesses skate lines on the ice. Students have the option to toggle the commands to see the JavaScript it's based on.
Code.org, supported by Mark Zuckerberg and Bill Gates, launched the Disney heroines to kick off its second annual "Hour of Code" campaign, which is designed to widen the range of participants in computer science all over the world, especially among girls.
Code.org will provide teachers with coding resources and lesson plans during Computer Science Education Week, December 8-14, to expose their students to programming. Disney has invested $100,000 to promote Code.org's vision of attracting young kids to computer science, and with host Hour of Code events for kids at its offices in Los Angeles, Palo Alto, Seattle, and Kelowna, British Columbia. For a nation that has only 1 out of 10 schools offering computer science classes, this is a necessary step.
According to Time, only "18% of computer science degrees are awarded to female students, and 20% of all software developers in the United States are women—even though women make up 56% of the labor force." Co-founder of Code.org, Hadi Partovi believes the problem stems from not introducing women to coding prior to high school and college, and by then, they're daunted by the prevalent notion that computer science is for men.
"When you're the only girl entering a classroom," he said, "the moment you walk in you feel like you don't belong. The way we address it is to flood the classroom with young girls who've already tried it and know they like it…when they're eight-years-old they have absolutely no conception of who could or should be coding," Partovi says.
Drew Houston, the creator of Dropbox, describes coding in a Code.org video as the closest thing we have to a superpower. Elsa and Anna are showing more girls that they can have a superpower, too.